The serial number is indicated below the scale of the variable-area flow meter. Other than that, it is indicated on the name plate label located at the top or back of the product. If you could contact us with your serial number(s), that would facilitate matters.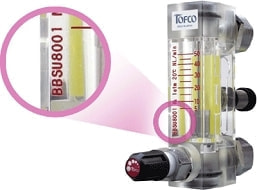 Example: FC-CX24G

TOFLO Corporation specializes in manufacturing flow meters. Our product lineup, which meets the needs of high-tech industries, is widely used in such inductries as semiconductors, automobiles, healthcare, and nuclear power. We value dialogues with our customers, and through which we would like to propose our products that satisfy our customers. We believe that we can be of any help to you. Please feel free to contact us. We look forward to hearing from you!
A flow meter is a device that measures the flow rate/volume of liquid or gas. You may not be familier with a flow meter, but literally this device can measure the rate/volume of something flowing . Once you hear the word "flow", the first thing that comes to your mind may be a liquid such as water, but anything flowing is acceptable such as gases.

In all industries, there may be needs for flow measurement to know how many liters per minutes is the most effective/suitable in such situations as:

*Measuring a liquid for a cleaning purpose
*Measuring water for a cooling puropose

Monitoring and controlling flow rate/volume make an improvement in yield rate, prevent defective products, avoid dangers, save costs, etc., contributing to the development of industries.

Deciding the most suitable product from our selection is somewhat difficult because it is necessary for us to consider the flow range, material compatibility, cost, dimensions, required accuracy and others.

TOFLO Corporation, as a professional flow meter manufacturer, proposes the most suitable product for your application. If you have a problem in flow measurement, please feel free to contact us.

If you have any questions about product selection or need our help, please contact us from Contact us.

Yes, our products are basically RoHS compliant, except for some of the products.
As abovementioned, the products are made to order, so our standard lead time is 3 weeks to ship from the receipt of order, but it varies by the product line. Click Contact us for more detail on lead times and pricing information. The off-the-shelf products are shipped in 3-5 business days from the receipt of order, but it may take longer if it is out of stock.
Yes, the cost we specificied is charged for a single order under 50,000 yen for domestic customers.
The inspection report and simplified instruction manual are accoumpanied.
The test report and others are created for the made-to-order products.
To download the simplified manual, click SHOP.
Have access to "Legacy products".
It can be accessed via Product lineup.
Yoshitane Tabata, Chairman