Acquisition of ISO9001 Certification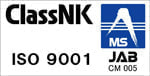 TOFLO Corporation had worked to aquire ISO 9001 certification since October 1999. On November 28, 2000, we were certified by Nippon Kaiji Kyokai, the certification organization. We continue our efforts to be able to provide assistance with the mottoes of ISO9001 quality policy "It is our strong desire that we keep supplying high quality products"" and "We contribute to society by serving our customer needs".
Conflict minerals
What are conflict minerals?
"Conflict Minerals" are defined as the below-mentioned rare and valuable metals that are extracted in the Democratic Republic of Congo (DRC) and its adjoining countries.
※ Tantalum, Tungsten, Tin and Gold
Background
Due to the fact that DRC and its adjoining countries produce rare and valuable metals that are used in advanced countries, there are always conflicts over mineral resources, resulting in slaughters and human rights infringements.
Profit of extracted minerals is source of money for the conflicts. To cut off funds that is earned through purchasing the Conflict Minerals, we need to make an effort not to use the Conflict Minerals extracted in DRC and its adjoining countries to exercise our social responsibilities.

Our sourcing policy on Conflict Minerals
In view of the above circumstances, as our basic policy, we will NOT knowingly use 3TG (Tantalum, Tungsten, Tin, and Gold) that is extracted in DRC and its adjoining countries, and is regulated under "Section 1502 of the Dodd-Frank Wall Street Reform and Consumer Protection Act". We also request our vendors to source raw materials from refineries that are approved by RMI and cooperate with our customers in regard to conducting Conflict Minerals surveys.

DRC and its adjoining countries

Democratic Republic of the Congo (DRC)
Republic of Congo
Angola
Zambia
Tanzania
Uganda
South Sudan
Rwanda
Central African Republic
Burundi
Security trade control
In accordance with the guidance of Japan's Ministry of Economy, Trade and Industry (METI), TOFLO CORPORATION has implemented a Security Trade Control Policy to prevent our products and technologies, which potentially could be used for weapons- or military-related purposes, from being obtained by any country or terrorist group that threatens the safety of Japan or the international community, or any other party with possible involvement in activities of concern. We believe that this is the responsibility of a global company doing business worldwide, and we are strengthening our export control system as part of our compliance efforts. In order to comply with trade-related laws and international frameworks, we will screen/review all business deals/transactions based on our Security Export Control Guidelines. Your kind understanding and cooperation will be greatly appreciated.
Environmental management
In February 2014, we acquired the third party certificate of "Eco Action 21" which is a guideline established by the Ministry of the Environment. We contribute to the creation of an environment in which people and nature can coexist as well as to the creation of a sustainable company.