FLC-E
Catalog

"This flow controller integrates "electromagnetic flow meter", "ball valve" and "PID controller". No moving parts except for the ball valve are present in the flow path, reducing risk of clogging.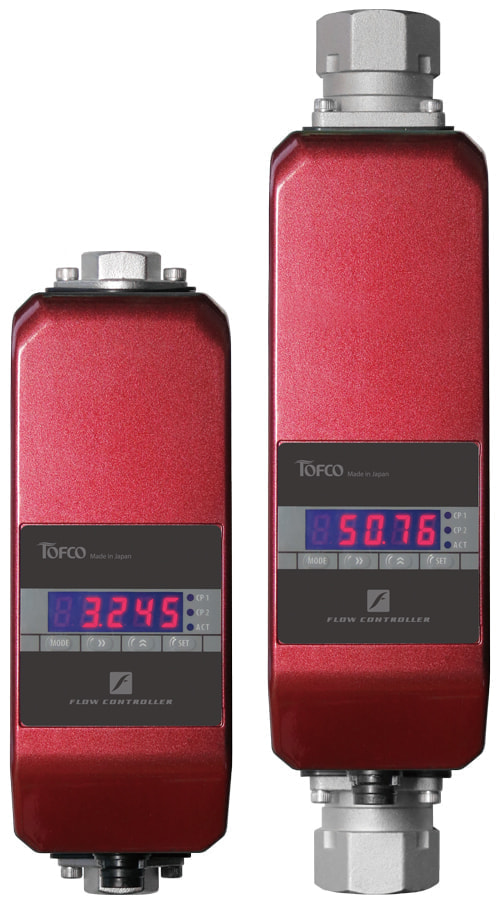 Features
Electromagnetic flow meter installed flow controller

The electromagnetic flow meter has no moving parts in the flow path, taking advantages of reducing risk of clogging and allowing for easy maintenance such as purging air, compared with turbine/vortex flow meters.

Modes of selecting flow rates

Analog signal input mode

Flow rates are remotely selectable by an analog input signal

Hand manual mode

Flow rates are locally selectable from the key panels

Pre-set mode

Up to 4 of the pre-selected flow rates are available by uisng the 3 wires

Alarm output

2 of the pre-set alarm points are tripped by the contacts

Flow control activated/deactivated

Flow control capability can be activated/deactivated by touching the Pre-set wires. Using a solenoid valve together allows for a fast valve response for an application that requires a repeat between fully valve close and selected flow rates, resulting in longer valve life.

Analog signal output

The analog signal output proportional to the flow rates is available, making the improvement in a product yield rate and root cause analysis of product failure.

Valve dead zone

The dead zone prevents the valve from moving more than necessary

Longer valve life and enegry saving are expected

The dead zone width is selectable

No clogging

No moving parts expect for the ball valve are prestent in the flow path, reducing rsik of clogging

No straight pipres required

Unlike a vortex flow meter requiring straight pipes upstream and downatream, this FLC-E can be installed in narrow locations.
---
---
Application example
Controlling flow rates of cooling water for die casting molds
| | |
| --- | --- |
| Automating test shots | Die casters who control flow rates hand-manually are able to control flow rates automaticaly, redusing human errors. |
| Improving product quality | Flow rates of cooling water fluctuate when water is supplied at the same time for multiple die-cast machines in parallel. This is due to supply pressure fluactuation, but FLC-E keeps the selected flow rates even though the pressure flactuates, reduing product variations and improving product quality. |
Specifications
Item

FLC-E010

FLC-E020

Flow range

0.5 - 5L/min

1 - 10L/min

2 - 20L/min

5 - 50L/min

10 - 100L/min

Orifice size

φ3.0

φ4.5

φ6.0

φ12.0

φ13.5

Fluid type

WATER、other fluid types(Fluid with electroconductivity of 50μs/cm or higher)

Flow accuracy

±5% of FS

Pressure range

0.15 - 0.4MPa(G), Withstand pressure:0.5MPa(G), Required differential pressure:0.15MPa

Operating temperatures

0 ~ 60℃(withstand temperature:80℃) No dewing and freesing

Input

Analog signal

4-20mA,

0-5VDC, 1-5VDC (for selecting flow rates)

Pre-set

Up to 4 of the pre-selected flow rates

Flow control activated/deactivated

Power source

24VDC±10%, Max.450mA(when stand-by:approx.100mA)

Wetted materials

SCS13, SS304, SS316L, PPS, PTFE (filled), FKM, HNBR